On Himachal Day the 15th April 2006 Homa Therapy Farming Program was begun with the first sunrise Agnihotra Homa through the Hon'ble Vice-Chancellor Dr. D.S. Rathore.
On that occasion the exact location of the resonance hut as well the four resonance pillars were selected using the topographic map of the university and GPS device.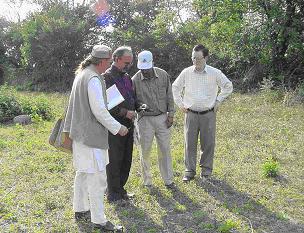 (Photo: Prof. Dr. Atul, Dr. Saini, Dr. Kapoor and Mr. Reiner selecting center point of the farm using GPS device)
On 5th June the resonance hut was inaugurated with sunset Agnihotra Homa, again through the Hon'ble Vice-Chancellor Dr. D.S. Rathore. A team of twenty top scientists have dedicated themselves to study organic farming techniques under the guidance of Prof. Dr. Atul, of which Agnihotra Homa Therapy technique is the most exciting method. On 7th June the four hour continuous Om Tryambakam Homa was started near the entrance to the organic farm. Since the first day, also the people living adjoining to the university have been attracted to the Homas.
The university will work on different fields of experimentation, such as soil study, plant pathology and microbiology, tea husbandry and technology, agricultural economics, agro-forestry and environment, entomology, animal science, livestock production, residual chemistry, vegetable science, food science and nutrition, horticulture etc. This research program is the first of its kind where more than 20 scientists work together to study the effect of Homa Therapy, a science of medicine, agriculture and weather engineering as given through the Vedas.
The time period for the research has been estimated three years. We will frequently visit the farm. We are very happy that science has taken up the investigation into this ancient knowledge and hope they will enlighten us to grow plentiful healthy vegetables, pulses and crops to maintain food security for the world.