Lima, Peru
South America
quinoa
cabbage
chamomile
biosol
Usually it is inconceivable that certain plants may produce in places out of their zone. With Homa Super technology, we have seen how 'quinoa' produces high yields with great quality on the coastal area, and even better than in their native mountain area.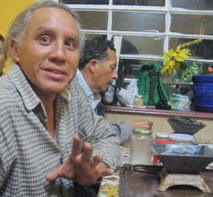 The size and diameters of turnips or cabbage can be very large. The size of each fruit, leave, etc. is bigger. The taste and healing qualities of herbs on a Homa farm are very strong.
Drinking a cup of Homa chamomile tea sends the toughest to bed. This is achieved with the practice of Agnihotra at sunrise and sunset and the Tryambakam Homa done 4 hours per day and 24 hours on a full moon and new moon, plus the application of Biosol prepared with Agnihotra ash.