Homa Farm: San Leoncio
Sector "El Milagro"
Aucayacu, Huanuco Region, Peru
South America
cocoa
"Five months ago, through the Special Project of Alto Huallaga of Tingo María, I had the opportunity to come to know and to begin to work with a type of Organic Agriculture called, Homa Therapy. I have over 10 ha of Cocoa plantation, which I had to abandon, because the plants refused to produce."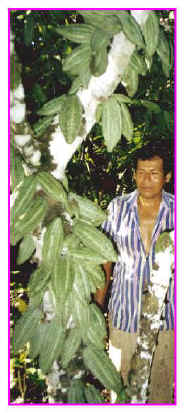 "The plants flowered very well, but the fruits didn't form well and they fell from the tree. From the few fruits we could harvest, 80% were attacked with the fungus Moniliasis also known as frosty pod rot (Moniliophthora roreri) and Witches' Broom, were small in size and the production was very low. We received guidance regarding pruning and cleaning of the plantation from Engineer Carlos Ruiz, a specialist in cocoa cultivation, but the harvest was smaller each time."
"I also had many old cocoa plants without production, so I decided to plant beside them a new cocoa plant to replace them. These plants already were one year old and were still of the same size like I had planted them and they had yellowish leaves, as if they were affected by a fungi. I also had cocoa seedlings of the variety CCN51, planted 7 months ago, which showed little development, and they were all without vigor, just as the plantation itself, which served them as shade. This was the situation when I began to work with Homa Therapy."
"After about two weeks, to be more exact after 18 days, the leaves started growing, were very green and brilliant, and with the time the foliage became more and more abundant. This is only due to the effect of the atmosphere that is created through the fires of Homa Therapy. The trees developed a strong flowering and they formed flowering clots. This process accelerated when I treated them with the Agnihotra ash solution. We have a healthy and abundant production."
The fruits develop with a lot of shine, the size and flavor has increased.
Since I started Homa Therapy, the production has not decreased. I had a constant production from the month of May till today, even though it is not the time, the production and flowering maintain.
I observed a better production where the Agnihotra ash water solution is applied.
The old cocoa plants, which did not produce and where I had put a new seedling on their side, started to produce with a permanent flowering and forming of fruits. Even the seedlings have grown over 70 cm and have shiny, green and brilliant leaves. All this is due to the Homa Therapy effect.
The young plants of cocoa CCN51, were loaded with healthy fruits after only one year through the Homa Therapy effect. They have a lot of foliage and flowers, which even surprised the Cocoa specialist Engineer Carlos Ruiz and the journalist from America Television of Tingo María. Because plants with chemical applications and a lot of care being put into weeding begin their production after one and a half years, but more frequently it is seen after two years, then they bear fruits, which are affected by the Moniliasis.
I also want to say that the healthy fruits produced with Homa Therapy are in the middle of a completely with Moniliasis contaminated atmosphere, because the infected fruits were left in the plantation. In this situation of contamination I observe that through the Homa Therapy effect the cocoa plant is very strong, it is really astonishing.
The healthy, shiny fruits demonstrate the force and vigor the cocoa plants receive from the Homa Therapy.
The more frequently the Agnihotra-ash-water solution is applied, the more loaded the trees are with fruits. That means that the production is increased and this fact is for us farmers great.
In bananas, variety Island, we observed that it could be harvested already after 5 1/2 months, using agrochemicals it takes 8 months.
"I beg you, gentlemen Cocoa engineers, who meet a lot of cocoa producers, to inform those farmers of the favorable results I have achieved in my work with cocoa using Homa Therapy. I am ready to teach any farmer the application of Homa Therapy and general how to manage cocoa. This would avoid that many farmers destroy hundred of hectares of cocoa because they believe that there is no solution for the Moniliasis fungus. Homa Therapy is the only solution and at low cost."
| | |
| --- | --- |
| | |
| Before Homa Therapy Treatment | After Homa Therapy Treatment |