By Dr. Barry Rathner
Ecovillage Bhrugu Aranya, Poland, Europe
Abhay Mutalik Desai, an award-winning Homa Organic Farmer from Belgaum, Karnataka, India, visited Ecovillage Bhrugu Aranya in Poland, in May and shared his experience and expertise with our Homa farm community.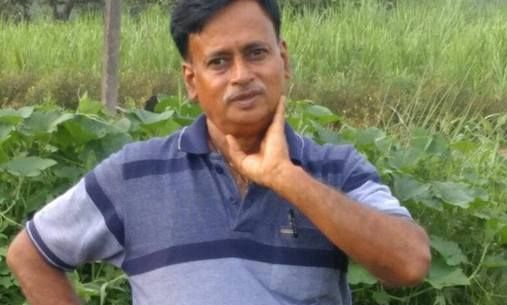 In his three PowerPoint demonstrations, the data clearly showed the improvement that Homa Organic Farming provides over traditional organic farming (as well as non-organic farming).
Abhay also joined us in our large vegetable garden sharing innovative new ideas. He showed us how to improve our composting, garden bed preparation and how to set up a more efficient sprinkling system for watering. An enthusiastic teacher and action-oriented, he helped by doing.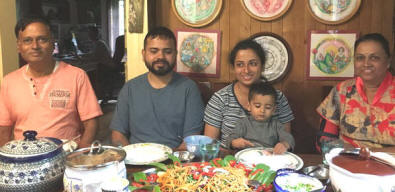 After five days at Bhrugu Aranya, Abhay and his wife Madhumati, their daughter Trupti and husband Bharat and adorable 2-year old son Aarov (photo right), traveled with a group of us (Jarek Bizberg, Poland, Parvati Rosen-Bizberg, USA, Asia Maher, Poland, Karin Heschl, Austria, and Barry Rathner, USA) on a 4-hour journey to southwestern Poland.
Abhay and Jarek were invited as keynote speakers at an organic farmers conference and festival sponsored by Robert Wagner in Ziebice (Lubnow). Robert is an enthusiastic organic farmer and environmental activist who networks extensively with fellow farmers.
Photos below: 1) Presentation of Abhay Desai: Homa Organic Agriculture: The Solution for the Future of Our Planet. 2) Jarek Bizberg addressing the group about Agnihotra
Robert and his wife, Cristina and sister Bozena and their extended family took wonderful, loving care of us and arranged for press coverage from a television station and a great place to stay.
| | |
| --- | --- |
| Photo: Second night of the farmers gathering. Teaching individuals Agnihotra. | More than 100 people attended sunset Agnihotra on May 12, and nine Agnihotra fires were lighted. including 4 local Agnihotra practitioners who had come with their kits. |
The organic farmers seemed really engrossed in the talks by Abhay and Jarek. Both of their lively, animated presentations kindled audience participation and interesting questions followed.
Abhay is very well known in India in organic farming circles and welcomes every opportunity to spread knowledge and practical application of every aspect of Homa Organic Farming.
It was in November, 2017, Abhay received 2nd place for the "Dharti Mitra National Award" for Organic Agriculture in India.
The awards ceremony took place at the 19th World Organic Congress in New Delhi. This was the sixth national and state award he has won since 2001.
Though originally trained as a chemical engineer, when he saw his father's farm decimated by negative effects of chemical farming, he took up farming, stopped all use of chemicals, and turned all organic waste on the farm into manure, compost and mulch. The comeback of earthworms created beautiful soil.
As Abhay writes:
"In 1999, Shree Vasant Paranjpe introduced us to the methods of Homa farming, and the nightmare my whole family was going through, finally stopped. His knowledge and guidance changed my vision of farming forever. I immediately implemented Homa Farming on all the 50 acres of land.
Within one year, all our land recovered and our soil was better than ever. Plants were healthy and strong with lower cost of production, less water and labor.
Our first crop of Vanilla beans had the highest content (2.9%) of Vanillin in India, in 2000 as tested by the Spice Board of India. Since this time, many farmers and agricultural scientists come to my farm and are amazed how easy farming operations have become here and how crop health and abundance have improved."
Abhay has presented six scientific presentations papers on Homa Organic Farming and principles to various conferences in India.
Back to Poland. The president of the City Council of Ziebice, Poland, honored Abhay and presented him with a certificate inaugurating his participation in the organic farmers conference.
The second day, at the festival that followed, we had a booth where we sold Agnihotra supplies and answered questions generated by the prior day's talks.
Evening Agnihotra closed out the conference
(photos).
Another large group of people attended. Some who had purchased Agnihotra kits earlier in the festival, joined us and performed their first Agnihotra with us at sunset.
It was a wonderful visit by the Desai family and we look forward to an encore in the future!