Homa Farm: Yadnyanagar
Village: Talwade, Tehsil: Rajapur, District: Ratnagiri
Maharashtra, India
cashew nut
Report from P.S. Kadam B.Sc. (Agri)
Officer, Agricultural Dept.
Pachal, Rajapur, Dist: Ratnagiri
Report on Cashew Nut trees
"I recently visited the Yadnyanagar Homa Farm of Shri Ravindra Wadekar in Talwade village. During the visit I inspected the Cashew Nut crop (which at the moment is in the flowering stage). Following are my observations: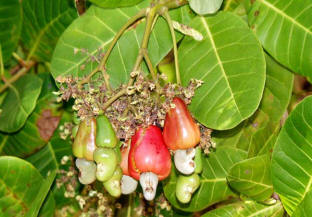 Cashew Nut crop in Yadnyanagar is totally free of the (tea) mosquito bug.
Normally this insect is found in every field of Cashew Nut.
To control this insect, the farmer normally has to spray all crop two or three times with strong chemicals such as Cyphermethrin and Monocrotophos.
Even after spraying with these chemicals total control is never achieved."
But this farm is completely free of this insect pest.